Childcraft, circa 1968
Sandra Brekke -
June 2023
June 1

-

30, 2023
Reception:

Sun, June 4

, 7:00 pm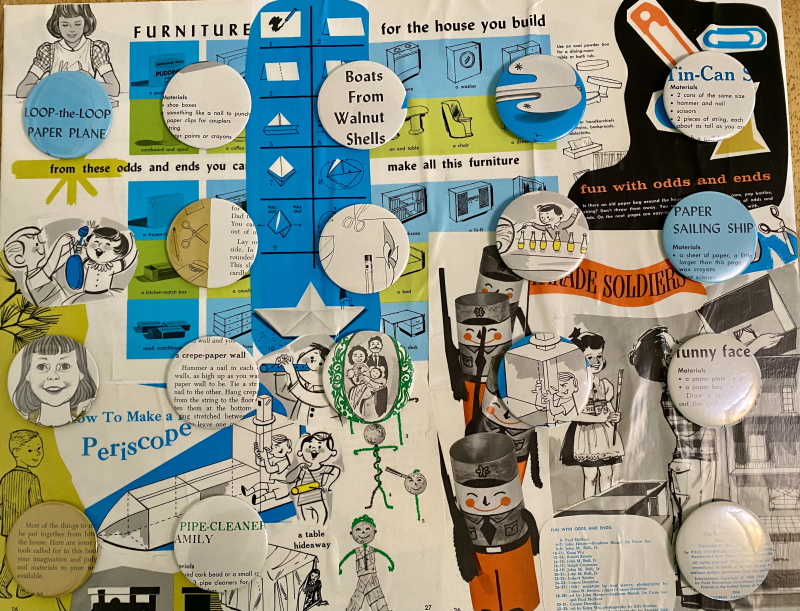 Sandra Brekke is a collage artist from Eureka, California. Before moving to Northern California, she spent twenty-one years living on Madison's eastside across from Tenney Park which she misses very much. She is looking forward to coming back to visit and share her latest collection at Mother Fools Coffeehouse for the month of June.
Her latest collection is called "Childcraft, circa 1968" and is taken (literally) from the pages of old copies of Childcraft – The How and Why Library. If you are unfamiliar with the Childcraft Collection, it was a fifteen-volume set with very colorful spines. Each volume addressed different subjects such as short stories, poetry, mathematics, science, among others. This set was published by Field Enterprises Educational Corporation which dissolved in 1984.
What makes Sandra's collage work unique is that she combines the subject matter with buttons. She loves buttons! Each college has two levels, the first level is flat college with a healthy amount of Mod Podge and the second level are selections from the topic made into buttons. The buttons pop out of the art piece to give it more texture but also additional snippets of information. In each collage, she pays tribute to the original artists either in the first college layer or on a button.
Sandra acknowledges that there are inherently outdated stereotypes in the selection of fifty-five-year-old source material. She avoids using those materials, whenever possible, in her work. You will find her collage art is not beautiful per se, but the viewer is drawn in for a few seconds of exploration and if the viewer's formative years were late 60's and early 70's, perhaps a memory.