FORGOTTEN GEOGRAPHY
Ellen Meyer -
March 2018
March 1

-

31, 2018
Reception:

Sun, March 4

, 7:00 pm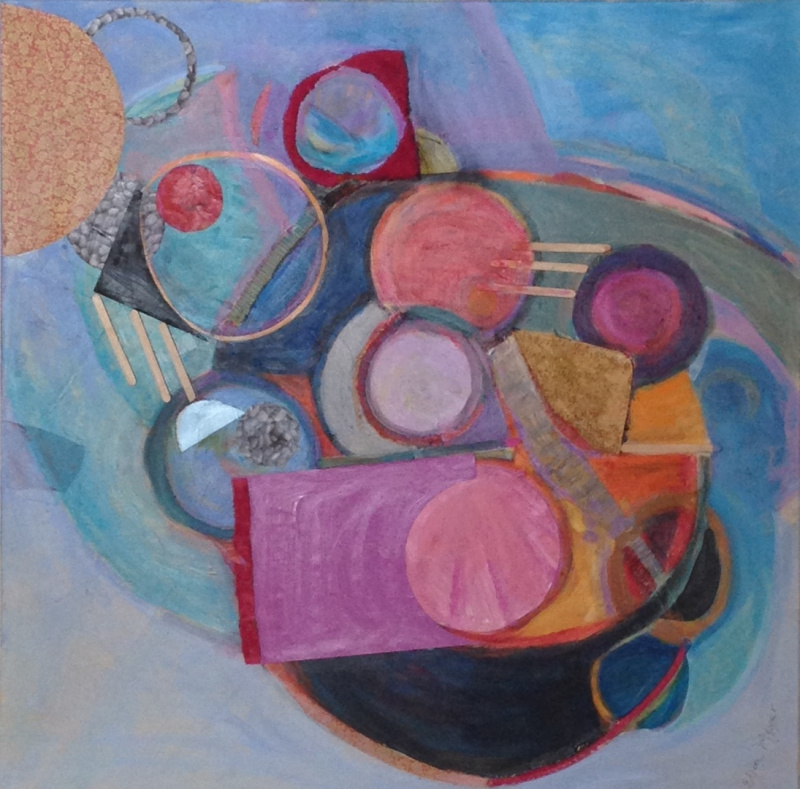 Artist's Statement
Acrylic Paintings, Collage and Works on Paper
My process begins by freely drawing circles, arcs and parallel lines on a canvas. Eventually they merge into a composition of positive and negative shapes. I add colors, sometimes starting with blue. But these blues range from pale blue violet to turquoise and ultramarine. When I use red, it's applied as a collection of cadmiums, pinks and magenta. Greens are grass-like, tinted with shades of ochre and bright yellow. Finally, heavy impasto paint is brushed along side passages of opaline washes.
At one time during the process, I'll hate what I'm doing. The composition may seem awkward or off balance. Colors might have turned muddy or the brush stops it's smooth flow of paint. Fearlessly, I may efface a good part of the work with sandpaper or thinned gesso so new textures and colors can form on the surface. For my latest painting "Kandinsky Pink" nothing worked until I glued over the offending parts with rags, craft paper and sticks. After days of hard work, I was pleased to declare it finished.
My influences for this series include Kandinsky, Sonia Delaunay and Matisse.
Artist's Biography
Born 1947, Philadelphia, Pennsylvania
1965-1969 BFA, Tyler School of Art
1969-1971, Art Educator, Philadelphia School District
1970s-1980s, Art courses at Wayne State University, Detroit Michigan, University of Wisconsin, Madison and Courtauld Institute of Art, London, England.
1989 MA in Art History, University of Wisconsin.
1989 - 2006 Art History Instructor at Edgewood College, Madison.
2006 One woman retrospective at DeRicci Gallery, Edgewood College