A Collection of Pen & Ink and Watercolor Drawings
Azul Sphaera -
February 2013
Artist Bio

I am a self-taught pen and ink/watercolor artist and muralist. A Chicago native, I have lived in cities all around the Great Lakes region, including Montreal (QC), Syracuse (NY), Houghton (MI – on the UP's Keweenaw Peninsula), and in Guelph, Ontario.
I have designed and illustrated promotional material for non-profit groups, concerts, and plays.
in the 90's, I created elaborate fashions from reused fabrics and intricate hand embroidery work for my Metamorphosis Clothing Company.
My highly detailed mural, "You Can Go Anywhere from Here," has been on display in the landmark art deco Medical Arts Building in Oak Park, Illinois, since 2000.
When I'm not drawing and painting, I can be found making shoulder bags, wristbands, jewelry, hats, skirts, wall hangings, mobiles, wind chimes, lampshades, salads & smoothies; or dining in little local restaurants, attending performances by the Young Shakespeare Players, bike riding, ice skating or rearranging all the furniture.
I have a grown son and daughter, and I live in Madison, Wisconsin, with my 11-year-old son and his papa, an engineer and drummer.
Artist Statement

I am an emerging artist originally from Chicago, now living the love-local-lifestyle in Madison. My years as an environmental, peace, and human rights activist convinced me that this worrisome world was longing to be reminded how beautiful it is; my art is in response to that longing.
My intimate pen and ink drawings are often brightly water colored. Through them I endeavor to lure the viewer in with images suggesting the warm comfort of home, the lush touchableness of trees, the pretty whimsy of paisleys, kites and paper stars; the potential of a musical instrument to elevate the musician, and the understanding that almost everyone riding this blue green globe wants peace.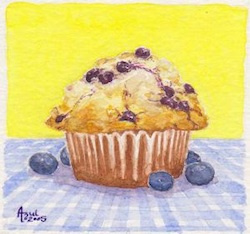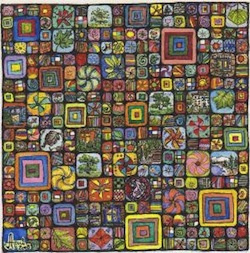 drawing