Thanksgiving Hours: 7am - 5pm
Tomorrow we'll be serving Miso w/ tofu and carrots & Split Pea soup. #Vegan
Upcoming Events
Saturday, November 25, 2017
This is a variety open mic. Feel free to read poetry, tell jokes or stories, and play music. Skits and magic tricks also welcome. Really, anything goes.
Sign up starts at 7:30. Show starts at 8.
Host: Angelica Engel
[ more ]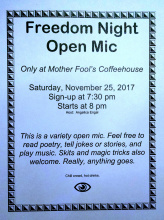 Sunday, December 3, 2017
Come meet December's artist, Rebecca Goldman.
6 - 8pm
[ more ]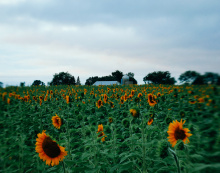 Saturday, December 9, 2017
"James the Magician is a Magician. He is a Comedic Magician. People tend to laugh at him.
James's magic is a unique addition to every occasion. Performing with a wild passion since he won his first talent show at the age of 7, James has performed magic for all people at school programs, weddings, corporate events and everywhere in between. His favorite part about performing is the fact that joy is contagious. It's passed from the performer to the audiences and by the end of the show everyone is left pleasantly amazed." -James the Magician (talking to himself)
[ more ]